Chenoweth Animal Hospital
About Us
At Chenoweth, pets are cherished members of our families, and we believe we have a special responsibility to offer the very best veterinary care available.
Contact
Call for an appointment.
Call with questions.
Click to call from your mobile device.
Pet Health
Learn about specific health
issues or procedures addressed
at Chenoweth Animal Hospital.
FAQ
We provide answers to some
frequently asked questions
concerning your pet.
Hours
Monday - Friday

7:00 AM - 7:00 PM

Saturday

9:00 AM - 1:00 PM

Sunday

CLOSED
Latest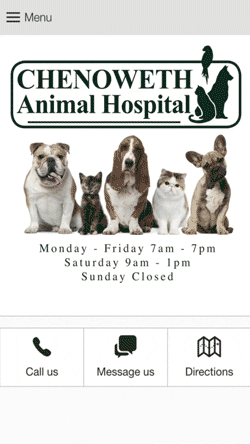 NEW!
We have an app!
This app is designed for iPhone, iPad, and Android, and is designed to provide extended care for our patients and clients.
Click the appropriate button and download.

---
VetSource Home Delivery
Chenoweth Animal Hospital is pleased to offer an online home delivery service with competitive internet pricing. This pharmacy is FDA approved and allows you to manage delivery and "remind me" options from home.
Pharmaceutical manufacturers do not guarantee their products unless purchased directly from your veterinarian. VetSource Home Delivery are shipped directly from our veterinary distributor so you can be sure that the product is exactly what it labeled and has been stored properly.
Products purchased from our online pharmacy are also eligible for the same manufacturer rebates that are available in our hospital. We have taken the guesswork out of finding a safe reliable online pharmacy!

---
Flea and Tick Protection for Dogs and Cats
Dogs
BRAVECTO® is the ONLY oral chew to deliver flea and tick protection to dogs for up to 12 full weeks. And since this long-lasting protection comes in 1 simple-to-administer chew, it's easy for owners to keep their pets protected.
Cats
BRAVECTO® is now available for cats as a topical protection.
Find out more at: http://us.bravecto.com/
---
Six Months of Heartworm Protection
ProHeart® 6 (moxidectin) is the only injection that provides 6 full months of continuous heartworm protection in a single dose. Just a simple trip to your veterinarian is all you'll need to give your best friend extended protection from heartworm disease.
Find out more at: www.proheart6.com/
---
Companion Therapy Laser – the Alternative to Pharmaceuticals
Companion Therapy Laser Treatment can be used to treat:
Arthritis
Hip dysplasia
Skin conditions
Post surgical pain relief
Otitis
Wound healing
Degenerative joint disease
Gingivitis
Insect bites/stings
Lacerations/abrasions
Cystitis
Burns
And more...
Find out more at: www.companiontherapy.com
Emergency Numbers
Louisville Poison Control
Testimonials
Love Chenoweth and the staff -- Dr Nevils is our vet and she's great! Appreciate the staff knowing mine and my dogs' names!

– Eleanor Ruth Robins

Love Dr. Ann Nevils.

– Monique Shaughnessy

The Chenoweth team always listens to my information, verifies that they understand my concerns and communicate instructions clearly. Make you feel as if they have a personal connection to your pet.

– Judy Sisk

kind, thorough vets.

– Miranda Ballou

All is great! Scout and Sadie are being seen by Dr. Douglas and we are very happy. All the staff are wonderful and love the animals so much! Keep up the great work!

– Todd Kesler

Great! The entire staff are extremely friendly to both me and my dog.

– JD Schwetschenau

The staff always is so helpful and well informed and on top of things --and so pleasant! Always get prompt and excellent service.

– Mildred Franks

We moved across town but we still drive to come to Chenoweth. We met your new Foc at our last visit and we really liked him!

– Kendra Toole

Staff is knowledgeable, helpful!

– Danette Rhoads

We have always been very happy with the care you provided Zeppy & the care you provide for Sancho. We have the utmost confidence in Chenoweth!

– John Sastre