About Chenoweth Animal Hospital
Chenoweth Animal Hospital has been serving the veterinary needs of St. Matthews area and surrounding communities since 1985. We were founded by Dr. Ann T. Nevils,a 1981 graduate of Auburn University College of Veterinary Medicine.
Location
Chenowth Animal Hospital is located at 3624 Frankfort Avenue, Louisville, Ky. This is on the corner of Frankfort Avenue and Bauer Avenue in St. Matthews. We are across from the Masonic Home.
Fees
Fees charged for services are based on the support needed to maintain the high quality of care we are proud to provide. Payment is requested at the time service is rendered.
For your convenience, we accept Visa, Mastercard, Discover, American Express and CareCredit.
Home Delivery
Chenoweth Animal Hospital is pleased to offer an online home delivery service with competitive internet pricing. This pharmacy is FDA approved and allows you to manage delivery and "remind me" options from home.

ePet Health
Sign up now to get online access to your pet's health information, free of charge! Use your private pet health website to:
Manage your pet's health care
View medication schedules
Communicate with us online
Learn more about your pet's individual health and life-stage issues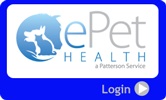 Hours
Busy lives sometimes make scheduling an appointment difficult. Take advantage of our extended early morning and evening hours or schedule your pet to be dropped off with pick-up at your convenience.
Monday - Friday
Saturday
Sunday
7:00 a.m. - 7:00 p.m.
9:00 a.m. - 1:00 p.m.
CLOSED
Appointments
Social