Pet Health Topics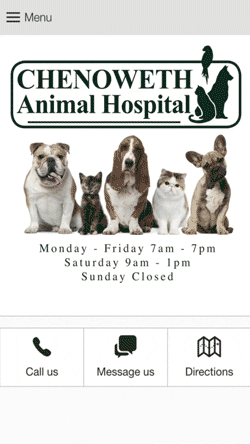 We have an app!
This app is designed for iPhone, iPad, and Android, and is designed to provide extended care for our patients and clients.
Click the appropriate button and download.

---
Moving to a Fear Free Practice
Fear Free provides online and in-person education to veterinary professionals, the pet professional community, and pet owners.
Founded by America's Veterinarian, Dr. Marty Becker, Fear Free has become one of the single most transformative initiatives in the history of companion animal practice, with over 13,000 veterinary professionals committed to becoming Fear Free certified.
---
VetSource Home Delivery
Chenoweth Animal Hospital is pleased to offer an online home delivery service with competitive internet pricing. This pharmacy is FDA approved and allows you to manage delivery and "remind me" options from home.
Pharmaceutical manufacturers do not guarantee their products unless purchased directly from your veterinarian. VetSource Home Delivery are shipped directly from our veterinary distributor so you can be sure that the product is exactly what it labeled and has been stored properly.
Products purchased from our online pharmacy are also eligible for the same manufacturer rebates that are available in our hospital. We have taken the guesswork out of finding a safe reliable online pharmacy!

---
Flea and Tick Protection for Dogs and Cats
Dogs
BRAVECTO® is the ONLY oral chew to deliver flea and tick protection to dogs for up to 12 full weeks. And since this long-lasting protection comes in 1 simple-to-administer chew, it's easy for owners to keep their pets protected.
Cats
BRAVECTO® is now available for cats as a topical protection.
Find out more at: http://us.bravecto.com/
---
Six Months of Heartworm Protection
ProHeart® 6 (moxidectin) is the only injection that provides 6 full months of continuous heartworm protection in a single dose. Just a simple trip to your veterinarian is all you'll need to give your best friend extended protection from heartworm disease.
Find out more at: www.proheart6.com/
---
Companion Therapy Laser – the Alternative to Pharmaceuticals
Companion Therapy Laser Treatment can be used to treat:
Arthritis
Hip dysplasia
Skin conditions
Post surgical pain relief
Otitis
Wound healing
Degenerative joint disease
Gingivitis
Insect bites/stings
Lacerations/abrasions
Cystitis
Burns
And more...
Find out more at: www.companiontherapy.com
---
At Chenoweth Animal Hospital, pets are cherished members of our families, and we believe we have a special responsibility to offer you and your pets the very best veterinary care available.
Click on a link below to learn about a specific health issue or procedure addressed at Chenoweth Animal Hospital:
Sample Procedures
Behavioral Counseling
Diagnostic and Laboratory Services
EKG
Hospitalization
Jefferson County Rabies Licenses
Medical Boarding
Ultrasound
Routine Surgeries
Non-Routine Surgeries
tumor removals
intestinal surgeries
cystotomies
eye surgeries
oral surgery and extractions
lacerations
abscesses
and more...
Hours
Busy lives sometimes make scheduling an appointment difficult. Take advantage of our extended early morning and evening hours or schedule your pet to be dropped off with pick-up at your convenience.
Monday - Friday
Saturday
Sunday
7:00 a.m. - 7:00 p.m.
9:00 a.m. - 1:00 p.m.
CLOSED
Appointments
Social